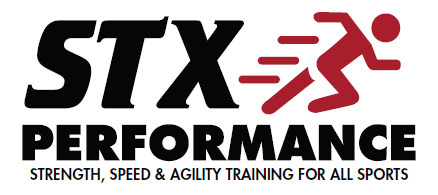 AGES 7 – 18 | Boys & Girls
Our STX Performance is a year-round fitness youth program for all sports and is conducted by a certified sports performance trainer.  This youth program is based on resistance bands and the elusive Vertimax machines.  Our trainer focuses on improving a participant's coordination, speed, balance, strength, agility, training technique & vertical jump to improve overall athleticism and sports performance.
Program Details
Cost
$125 for Age 11-18, 8 sessions (twice a week)
$100 for Age 7-10, also 8 sessions
Time (Effective Aug 8, 2023)
Ages 7-10… 4:30pm-5:30pm
Ages 11-14… 5:30pm-6:30pm
Ages 15-18… 6:30pm-7:30pm
Training Days
Tuesdays and Thursdays
Trainers
Certified sports performance trainer
What To Bring/Wear
Comfortable athletic attire.
Most Importantly
We encourage athletes to bring their own bottled water (to stay hydrated).
Hand sanitizer dispensers are available throughout the facility.
A drink vending machine and a concession stand are also available in our state-of-the-art facility.
STX Performance in Action